The smart connected home is the next phase in the evolution of our homes and our relationships with them. As AI technology advances, so do the many systems in our homes, just as lighting has moved from candles to gas to electricity. The smart home is fast growing in popularity. While all of these new smart home technologies may appear frightening and complex at first, the addition of artificial intelligence assistants and voice control has made them much more tolerable. The top 10 AI-powered smart home technologies for 2022 are listed below.
1. Google Nest WiFi
If you want to have a smart home or use your smartphone in every room of your house, a mesh Wi-Fi router will make things easier. A mesh Wi-Fi router consists of one or more 'hubs' that you plug in around the house to eliminate dead zones and distribute Wi-Fi signals evenly throughout your home, despite thick walls or difficult layouts. Nest Wi-Fi from Google is an excellent complement to any smart home. With Google's Home app, you can control anything from your phone, and there are built-in parental controls that let you turn off access to your kids' electronics with just a phrase, which is perfect for getting everyone to the dinner table on time. This is one of the most effective smart home gadgets. It is based on artificial intelligence and smart home technology.
2. Abode Smart Security Kit
Adobe Smart Security Kit is one of the top smart home devices. Abode is a trustworthy DIY home security system with a plethora of smart home features. It works with Alexa, Google Assistant, and HomeKit, and it can also act as a hub for Z-Wave and Zigbee devices, which are two wireless home automation protocols that considerably increase the kind of devices that may be controlled.
3. Arlo Video Doorbell
Arlo Video Doorbell is another smart home device. Smart doorbells use a camera, speaker, microphone, motion sensor, and an internet connection to detect visitors and activity at your door. You may then use your smartphone to view and hear live video and communicate with anyone is nearby, or you can let the camera record a message for you. It's similar to having a voicemail system for your front door. The Arlo Video Doorbell is a great choice because it has a number of high-end features. At a minimal cost, it can identify between persons, animals, cars, and packages.
4. Nest Protect Smoke & CO
One of the most basic yet effective home automation gadgets is a smart smoke alarm. It isn't the most exciting technology, but it is one of the most important since it has the potential to save your home. Because it is packed with sensors and smarts, the Nest Protect Smart Smoke & CO Alarm is the best device. It can wirelessly link to other alarms in the event of a serious emergency, alerting them all to ensure you wake up. It also sends you an alarm to your phone and offers a speech alert identifying which room the risk is in. It also illuminates your path with a red LED (which is easier to see through smoke) and sends you a voice alert. This is based on artificial intelligence and smart home technology.
5. Philips Hue, Lutron Caseta
Smart lighting is the poster child of the smart home because it is simple, pleasant, and beneficial. The Lutron Caseta range is inexpensive, compatible with Alexa, Google, and HomeKit, and works with practically any wiring layout. It employs Lutron's own wireless protocol rather than your home's Wi-Fi (through a hub). Philips Hue's smart bulb series is not only the most intelligent and dependable option, but it's also the most affordable. This fantastic, expandable smart lighting system includes bulbs and fixtures for each setting, as well as wireless switches for physical control when needed and amazing motion sensors that adjust illumination automatically based on the time of day. This is from a different smart home gadget.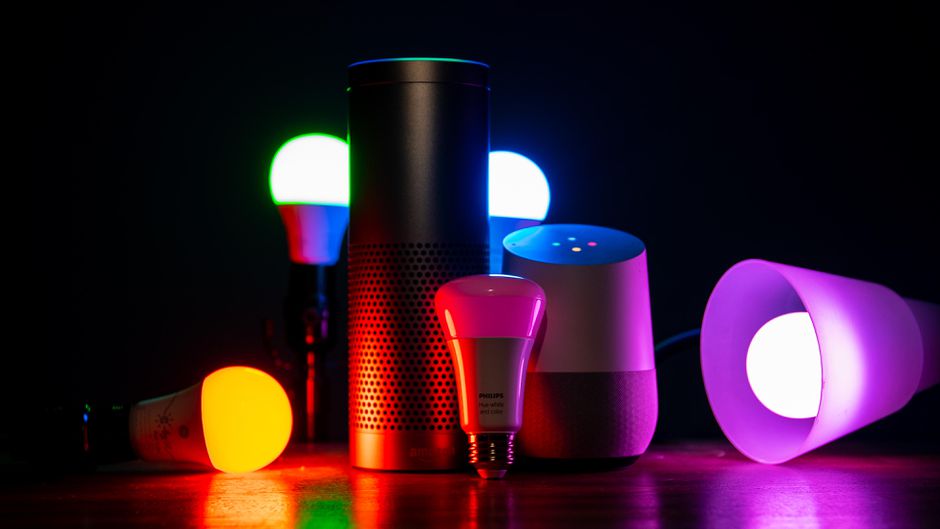 6. TP Link Kasa Mini, Eve Energy
This fantastic, expandable smart lighting system includes bulbs and fixtures for each setting, as well as wireless switches for physical control when needed and amazing motion sensors that adjust illumination automatically based on the time of day. The TP-Link Kasa line of smart plugs are an excellent alternative if you don't want to use a separate smart home system to manage them because they're easy to use, interface with Google and Alexa, and feature a gorgeous app. If you're looking for a reliable HomeKit smart plug, the Eve Energy is a wonderful, albeit slightly pricey, alternative that monitors energy usage and provides a detailed analysis of usage over time.
7. Sonos One
The Sonos One is one of the best smart speakers since it works with both Amazon's Alexa and Google's Assistant, giving you the option of using any voice assistant. It also boasts excellent sound and links to Sonos' bigger wireless music ecosystem. It's also compatible with Apple's AirPlay technology, which lets you stream music from your iPhone or iPad to other AirPlay 2-enabled speakers. This is another example of a smart home device.
8. Google Nest Hub Max
Because it crams a lot of capability onto a 10-inch screen, the Nest Hub Max is a clever display. Thanks to a built-in camera that also functions as a security camera, it can recognise who is using it and provide tailored information without you having to say anything, taking the smart speaker to the next level. Artificial intelligence and smart home technologies are also used in this.
9. Nest Learning Thermostat
The Nest Learning thermostat can now control your hot water – a Heat Link is included, which connects to your boiler and interacts with the thermostat to turn on and off, change the heat, and create an intelligent schedule for your boiler, just like it does for your heat. This learning feature is what sets the Nest different from the competition; it uses artificial intelligence to recognise your behaviours and design and adjust a schedule that keeps you comfortable while still conserving energy based on your customizations, presence, and other data.
10. Roomba i3+
The Roomba i3+ is a low-cost vacuum with self-emptying capabilities. When the onboard bin is full, it switches to the external bin to suck out the trash. This means you only have to empty it every three months, rather than twice a week like with non-emptying bots. The i7+ model is also an excellent option. The i7+ is more expensive than the i7 since it can do things like only clean the kitchen or only vacuum the living room using smart maps controlled by a smartphone. With only a few sentences, you can tell Alexa or Google to clean, halt, or return home. This is also one of the most effective smart home gadgets.
Our top 10 list of the top AI-powered technologies in 2022 is based on current trends and what we believe will be the most popular smart home technologies in the future. We hope you enjoyed our article on the 10 most popular AI-powered smart home technologies in 2022!