It seems like Akon has been on the spotlight more recently than before. The world-renowned singer, producer, and philanthropist has been investing in cryptocurrency for a while now. He has even become the first major artist to be the CEO of a cryptocurrency company. As such, he has taken the art of being a celebrity to another level and is using his fame to spread the awareness of cryptocurrency. He has launched his own crypto token called Akoin and will be launching it on the Blockchain as an NFT.
AkoinNFT to collaborate with Oasis Network to offer historic DNA data art as NFT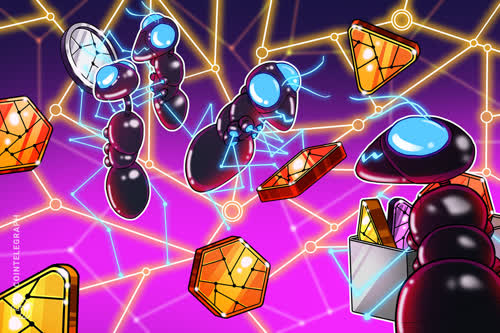 Akon has teamed up with a historic gene sequencing company for an original work of art.
Almost everything these days is NFT, and your DNA could be next.
An announcement today by AkoinNFT, the nonfungible token platform launched by musician and budding blockchain entrepreneur Akon, reveals an auction for an NFT that will contain high-resolution art depicting Professor George Church, renowned biologist and first human genome sequencer.
For its metadata storage, AkoinNFT will use Oasis Labs' Parcel platform. Buyers can also order a "30x whole genome sequencing" from project partner Nebula Genomics, a DNA sequencing company co-founded by Church himself.
The auction happened on Thursday, June 10th, with the goal of "starting a conversation about the monetization and sharing of health data in an equitable and transparent way."
The Genome Sequenced DNA of an individual is the best indicator that we have of our own individuality, just like how we celebrate the artist within us. NFT is a landmark release in a multitude of ways," Akon explains in the release.
He is also regarded as a trailblazing figure for making his medical records and data publicly available, in addition to having their DNA sequenced. This has led to the use of his data in hundreds, if not thousands, of scientific studies.
Recent announcements indicate that the network is migrating to the DeFi protocol
Oasis Network's move to store medical or genomic data as NFTs could pave the way for more comprehensive medical record work. In 2018, the network raised $45 million with a pitch that focused heavily on privacy-preserving computation, including multiple uses of medical records, as part of a patchwork of recent initiatives.
Oasis COO Anne Fauvre suggested using Parcel for developing other off-chain data sets.
"We envision Parcel and the Oasis Network, with its ability to tokenize numerous classes of off-chain assets, as the ideal platform for securing the next generation of NFTs."
"Launching AkoinNFT to empowers artists", says Akon
R&B and hip-hop artist Akon has launched AkoinNFT, a non-fungible tokens (NFTs) platform that will assist artists and brands in the creation of original content.
Akon, whose birth name is Aniaune Damala Badara Akon Thiam, recently unveiled AkoinNFT, a platform that can support NFT transactions, with Taqo.io.
As a result of the COVID-19 pandemic, many creatives have been unable to resume their work. Through NFTs, struggling artists and fans have been able to find support by creating opportunities.
Cryptographic assets such as NFTs can have variable features. From art to collectible sports cards to virtual real estate and digital sneakers, these images have been used to represent a wide range of unique tangible and intangible objects.
For artists interested in utilizing the latest digital movement of art, AkoinNFT will serve as a platform for the creation, design, minting, and distribution of NFTs.
"We believe in artists of all talents. We support artists for we are artists and there's never been a better time to put the power back in our collective hands to create a greater connection with fans," said Akon.
Akon, the music artist and philanthropist behind the AKN cryptocurrency, has built AkoinNFT in partnership with Tako.io, the company behind the Akoin platform.
In its press release, the Taqo team explained that its blockchain platform is based on Web3 architecture, the decentralized web used by Ethereum.
Akoin and the cryptocurrency it supports were announced by Akon back in 2018 as a means of bringing about a "real-life Wakanda" (relative to the fictional city in the film and comic book "Black Panther").
NFTs have become popular among musicians lately.
In addition to a variety of auction formats, loot boxes, open collection minting, and more, the AkoinNFT platform also provides access to leading sales models and release formats.
NFTs have become increasingly popular among musicians lately. King of Leon released its NFT album in March and gave away golden tickets. Rapper Post Malone's live streaming platform, AUX Live, has begun issuing Fyooz-based NFTs that blur the line between art and experience.