Many of us have seen houses with Victorian, contemporary, modern and other designs around us. Although we are already familiar with these styles, then we still marvel at the beauty of houses that stand out from the rest.
There are, however, certain house designs which will surely amaze you due to their distinct designs. As more and more people are opting for modern, high-tech homes, architecture and design firms are doing everything they can to keep up with the demand. They want to make the space as beautiful as possible and provide features that make it more functional.
One of the best ways to do this is through the use of modern construction materials like the steel, aluminum, and concrete. With the advancements in technology, the design of homes has changed drastically.
Homes are now meant to be smart, efficient, and highly advanced. Many people think about how their home could be energy efficient, but also aesthetically pleasing. High-tech is all the rage, and it's time to embrace it and use it to your advantage.
Here are the list of 8 futuristic homes you wish you lived in:
Green House by Yang Mingjie, YANG DESlGN
Green House explores the ways in which energy is stored in the home as light and water, as well as the ties between people and plants. Yang Mingjie proposes a new type of pastoral home that redefines the relationship between energy and home.
As a home energy demonstration device, the approach focuses on light and water conversion to achieve plant cultivation. In Yang Mingjie's words, "the owner of the family works as a white-collar lawyer. She controls the growth of her plants through her smart phone when she's not at her office." Mobile phone services allow her parents overseas to assist her in taking care of her vegetable garden in Beijing. Her boyfriend can also cultivate a flower in Beijing remotely via her mobile phone. In celebration of a special anniversary, the flowers bloom and bring blessings."
400 Boxes House by Qingshan Zhou Ping, BLUE Architecture
This design asks if it is possible to bring together all furniture suitable for street use, and display them as architecture. Qingshan Zhou Ping believes that Chinese citizens are not facing homelessness, but rather the feeling that their homes are becoming increasingly homeless.
He described his work as "semi-architectural, semi-furniture", that is, blurring the distinction between architecture and furniture, and considering the future lifestyle of young people through semi-architecture and semi-furniture movable living boxes.
The Beijing Hutong embodies the combination of semi-private and semi-public living. It is so small that it retains the smallest amount of private space, while the outside is shared furniture.
Huari Home is a company that produces the "box" that comes with wheels and can be moved. You can freely combine it with a platform, LOFT and other forms to turn it into a room.
Living Garden by Hanergy, MAD Architects
Ma Yansong, the co-founder of MAD architects, presents his vision for the future home at the 2018 China House Vision Exhibition. The "Living Garden" by MAD breaks down the boundaries between interior and exterior, creating a sense of living in nature.
While walls and roofs traditionally serve as boundaries, MAD's design envisions a "en-plein-air" atmosphere. A curved, floating roof slopes down, which is layered with translucent, waterproof glass providing natural ventilation and allowing sunlight to flood inside. An array of Hanergy solar panels can be seen above. Each panel is angled in such a way that it harvests maximum amounts of sunlight while providing power for all areas of the house. Collectively, they produce enough electricity to power a family of three for an entire day.
"Living Garden" is a tribute to life, (solar) energy, and nature flowing seamlessly together. It highlights mankind's emotional attachment to nature.
Located on the Azores' island of S. Michael, this house is designed by Portuguese artist Bernardo Rodrigues and consists of a web of curved and rectilinear volumes that create intimate courtyards. An enormous red square wall protects the house from strong winds originating in the North Atlantic.
A frequently windy microclimate in this farmland required a wall to block the winds, offer covered patios and courtyards on the ground floor guarded against rain and open all living space to nature to the outside by way of glass walls receded from the exterior.
This typology follows almost Classical Palladian and scamozzi plans, with double height living rooms and lateral wings enclosing the kitchen, and also quotes the high chimneys of popular home architecture. One of the lateral wings has circulation for the first floor and rooftop terrace.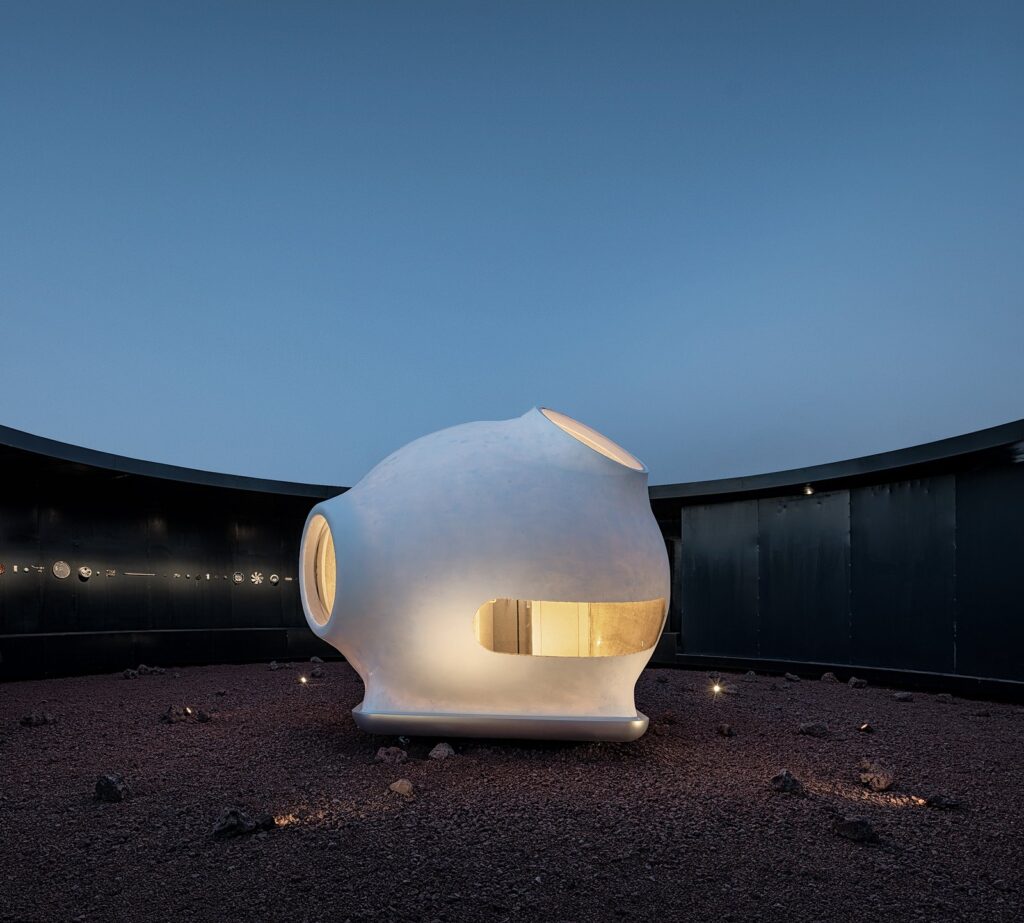 The Mars Case was designed for the 2018 House Vision China exhibition. Started in 2013 by Muji art director and Hara Design Institute designer Kenya Hara, the program invited architects to develop housing prototypes that represent their vision of how homes will look in the future. At this year's event, the first in Beijing, prototypes from Open were displayed alongside those from MD Architects, Hasegawa, and Atelier Deshaus, among others.
OPEN Architecture and Xiaomi teamed up to design MARS Case, a prototype housing to allow humans to survive in as punishing an environment as Mars. An integrated ecosystem of a house collects water, air, and energy, and then recycles it back into the house.
On the outskirts of Madrid, in the green enclave of La Moraleja, the Barcelona-based design-build firm NOEM has created a prefab home equipped with all the gadgets of a spaceship.
Pol Guiu, cofounder of NOEM, says that the house owner basically asked for a mothership in his brief to him. "He basically said that he wanted a mothership," declares Guiu.
The project took a mere 14 weeks: NOEM designed and built the house in eight weeks, produced the modules in five weeks, and assembles it in one week.
Its three wooden modules are attached to a metal frame in a manner that makes sense for "The Spaceship Home" name, being perched about 13 feet in the air. A restored, modified Spanair airplane staircase gives access to the house.
One of the most important features of the home (and the one that gives the greatest tribute to the Star Wars theme) is an aesthetic metal control panel in the entry hall. It is embedded with two iPads, which let the user control lighting, temperature, security, and sound.
According to NOEM, shutters can be raised or lowered according to time of day or weather conditions and metal walls can be coloured according to desired temperatures. Exterior lights can be programmed in different modes.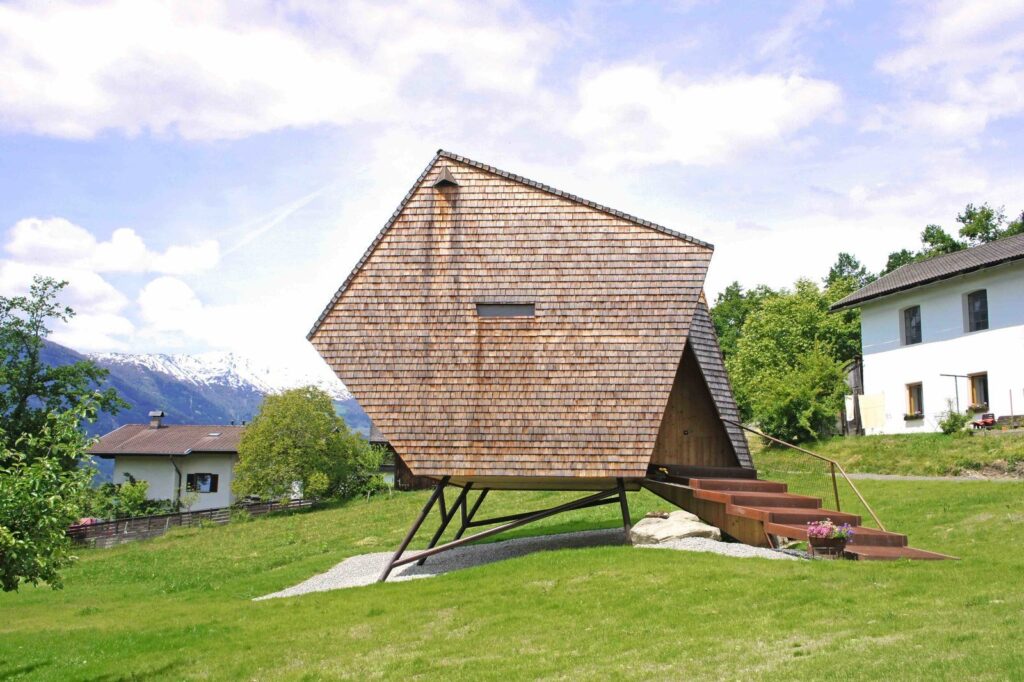 At the Ufogel Tiny House in Debant, Austria, it was built on stilts and floats above a meadow. With its panoramic window it overlooks the Lienz Dolomites.
Although the home has a compact footprint, it offers 485 square feet of living space. The curved timber frame is made of larch wood, creating a cozy cabin ambiance along with the wood stove. The main living area includes a cantilevered dining table that accommodates eight guests, a nook to enjoy the view, and a kitchenette with a sink, electric cooktop, and refrigerator. The bedroom has a double bed plus a separate area for children.
Bathroom amenities include a glass shower door, tile floors, and a view of the East Tyrol mountains.
Staab's residence comprises three volumes arranged across two levels. A patio, a spacious backyard, and an inviting pool complete the project. A separate garage is also part of the project.
In addition to maintaining privacy, the studio aims to create an open home with a view of the McDowell Mountains.
On the ground floor, which consists of sand-blasted CMU block masonry walls, are the kitchen, dining room, living room, and three guest rooms. Through sliding glass doors, the boundaries between inside and outside become blurred.
"The overall goal of the cladding was to create an envelope capable of absorbing the ambient light and allowing for a varying perception of color and finish throughout the day", said the architects.
By reflecting light and nature, this luxurious house merges with the surroundings.